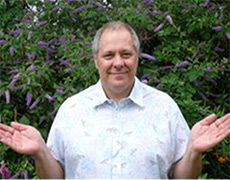 Keith Corbett
Founder, Woodland Wellness
Following 30 years in blue-chip, international business and marketing while studying metaphysics, Keith is a powerful healer and professional advisor. He combines an array of advanced holistic techniques with down-to-earth pragmatism in a truly original way.
He is dedicated to empowering you to achieve high vibration health, wealth and happiness.
Modalities practiced:
Polarity balancing master practitioner/tutor
Master herbalist
NLP, TimeLine Therapy and Hypdnotherapy master practitioner
FreewayCER tutor/practitioner
Reiki master/teacher
Spiritual master practitioner
Rossiter Technique practitioner
Professional dream interpreter
Intuitive decision making practitioner
Holistic education and training
Also practicing applied kinesiology, ho'oponopono, tarot, manifesting mastery, metaphysics, holistic therapies, dowsing, relationship analysis, money issues resolution, breathwork, spiritual pathmaking, shamanic techniques and many more modalities
My Story
The question I get asked the most is "how did you get into this," so here is the answer:
I know a lot of my peers have overcome great adversity, returned from near-death and destitution to create a successful life in the end, but I cannot make any such claim. I don't come from a broken home and haven't had any serious disease. Actually I had quite a nice life, getting a good job straight after graduating, being well paid for many years, traveling the world and even living abroad for 13 years in Germany and the USA.
Of course, there were challenges, particularly in the work environment where many personalities and politics are at play, but all in all I loved my numerous jobs with a hi-tech global leader and was quite successful with a strong reputation.
Then one day around the millennium my world was turned on its head…
---
I was visited by the ghost of my dead grandmother in the middle of the night. Three times on consecutive days. Are you familiar with the expression "jumped out of my skin?" Well I know exactly what that means.
At about the same time I had a back injury – I bent down to tie my shoelace and couldn't stand up again. It was a recurring injury from an accident 10 years earlier. I was recommended to visit a chiropractor who straightened me out and opened my eyes to complementary practices. The back wasn't fully healed though and through Internet research I found a thing called Reiki, a hands-on energy healing art.
Finding a local practitioner, I went for a session with the hope of getting my back fully fixed. Instead, the healer put his hands around my knee and with a lot of heat and tingling healed an old rugby injury, even though I hadn't thought to tell him about it. If I had been sitting for a while I had to click it out before I could stand up. It throbbed when the weather was going to change.
I had been told there was nothing to be done about the knee, that it would just get more arthritic with time and yet after Reiki it was like new. And still is to this day. If he had just healed my back I may have thought it was just a placebo effect, but because he did the knee when I didn't even mention it to him, I was convinced that it was real.
---
That started me on a journey into healing arts, metaphysics, the supernatural and spirituality. I read dozens of books, attended many courses and workshops, literally soaked it all up like a sponge. On my birthday in March 2000 I did a Reiki Level I course, did Level II six months later and the master/teacher level in August 2001.
During this time I was privileged to witness many miraculous healings and developed a reverence for the way the universe works. I began to see auras and experienced visions of things that people needed for their healing. Seeing ghosts, spirits, orbs and receiving profound insights became commonplace.
Despite all of this I am still a skeptic at heart; seeing is believing for me. Well I did see so much that proved beyond doubt for me that there is much more to the world than meets the eye. I firmly believe that the consciousness survives the body.
Around early 2003 I was doing Reiki sessions with two people who had MS and found that for one of them a day after the session it was as though they had never had it – the effects wore off so fast. With the other one the energy wouldn't even go in – I could feel it bouncing back at me.
Keith Smith
Then in June that year (2003) I attended the Kryon Midsummer Light Conference, a metaphysical event in Breckenridge, Colorado. One of the speakers was Keith Smith, a herbalist from California who said "energy workers, you'll find some people can't hold the energy." It was as if a spotlight had been shone on him and I felt a tingle all over.
I knew I had to talk to him, but he was booked solid with appointments for the rest of the conference. He did like to attend the keynotes though and coincidentally the only free seat in the first three rows was right next to me. Cutting a long story short, I was invited to train with him in California to learn how to heal Chronic Reversed Polarity (CRP).
I was a bit surprised to find out that I also had it. "How is your energy?" he asked. "Fine; I'm a Reiki Master," I replied. I just didn't know what it could be. Once I had healed my own CRP my energy and intuition shot up to even greater levels. I am to this day truly amazed at the incredible transformations achievable with polarity balancing and I made it the core of the From Woe To Well programme.
---
Although Keith has had a number of students over the years, I am the only one currently practicing his method in Europe.
It was Keith who gave me the outline for a technique designed to help people get their mindset right for healing and attracting what they want into their life and this started a 10-year research project into how manifesting actually works and how to be successful at it.
This culminated in my own development of a method I call The HEART Manifesto. It is a powerful and empowering method of declaring intention, taking responsibility for your life, learning the value of forgiveness and gratitude, then using the secret techniques discovered through intensive research to guarantee attracting what you really want into your life.
Keith uses kinesiology (muscle testing) and dowsing with a pendulum to help determine the optimum products for clients, so of course I had to learn them too. I have to admit I was highly skeptical about these until I mastered the techniques now actually find them to be exceedingly accurate. I augmented my kinesiology training with workshops by the world famous kinesiologist Dr. Robert Frost.
As the polarity balancing process uses herbs I thought it would be useful to understand them better so earned my Master Herbalist certificate in 2006.
---
Also, realising that people healed faster when the mind was engaged in the process, I investigated various mind/body therapies but saw inconsistent results. I decided I needed a better teacher and through internet research found a highly qualified Emotional Freedom Technique (EFT) trainer locally.
EFT has merit for releasing negative emotions, but I found it didn't always work when I used it, I just couldn't get consistent, repeatable results. The trainer told me he doesn't teach EFT anymore because he had a better, more effective method called FreewayCER – an anagram for Fast Release of Entrapped Emotions With A Yawn Change Energy Routine.
This is a meridian energy therapy based on traditional Chinese medicine combined with modern energy psychology that is brilliant for releasing negative emotions, anxiety, phobias and the like. And it works every time. I trained in Level 1 and 2 in 2007, took advanced training with the founders Tom Bolton and Bev Anderson a couple of years later and was appointed a tutor practitioner in 2011.
In 2009 I found myself in low spirits – very unusual for me. For the first time ever things weren't going well at work and it was as if all my values were being tested at once. Even though I knew it was all in the mind, I couldn't break out, so I looked for solutions. Amazingly, I found a trainer of Neuro Linguistic Programming (NLP) right in our village and signed up for her course immediately.
Using NLP I was able to rewire my neurology to eliminate the negative programming and install new beliefs and success behaviours. I started getting accolades for my work projects again.
In 2011 I had a flare up of the old back injury, which usually remains quiet so long as I do regular chiropractic and yoga. I was attending a Reiki share that week and the leader was also the UK lead instructor for Rossiter Technique, a method based on Rolfing that provides instant relief for muscle and joint pain.
Using stretches, it works on the connective tissues and fixed my back in a jiffy. Of course I attended her next course and am always delighted to provide instant relief for joint and muscle pain with this wonderful method when clients are able to visit in person.
Toolbox
I have since added TimeLine Therapy and Hypnotherapy to my ever-expanding toolbox, further helping clients with rapid changes of behaviours and beliefs. Plus more intuitive techniques such as dream interpretation and tarot, which are useful for accessing the subconscious to reveal the answer to current problems or issues, as well as ho'oponopono, a Hawaiian Huna technique for healing relationships.
An initiation by a shamanic master has equipped me with even stronger spiritual processes for helping clients with the most challenging of issues and I was delighted to achieve my Spiritual Master Practitioner certification. This seemed fitting given my now almost legendary psychic skills.
While I have trained in numerous other techniques and methods over the years, gaining a wall full of certificates in the process. CRP, herbs/supplements, NLP, TimeLine therapy, hypnotherapy, Reiki, HEART Manifesto, and intuitive healing remain the core of my practice.
I find them reliable and effective in delivering consistent, spectacular results with a truly holistic approach, having powerful techniques for body, mind and spirit. Oh, and my "signaling system" – a buzz/chill on the right side of my head when I have the right answer for a client – helps too.
---
So there you have it in a nutshell. Of course, being me, in an ongoing pursuit of offering the best possible service and value I have trained to master practitioner and/or tutor level in mist the disciplines I use.
Meanwhile I also continue my life-long learning process, gaining at least one new certification every year so that I can offer the best, most current practices to my clients and gain ever deeper understandings of how the universe works.
In 2015 I published my first book – The HEART Manifesto, which teaches you the real secret to creating the life you want in the form of a very powerful manifesting tool based on over a decade of research and practice.
And now, combining my many years of research, training and practice, I am offering my own certified holistic practitioner training, complete with ongoing support to help students build their own brilliant businesses based on natural healing for Chronic Reversed Polarity.
We are now also offering a Bespoke Body Balancing, specifically designed to heal your obesity and emotional eating. It is fully holistic, offering a unique combination of supplements, nutritional counseling, relief from stress, anxiety and fatigue, and reprogramming the mind to make healthier choices for long term success.
My favourite quote:
"Your expectations will be met, so expect miracles!"